Satsang agenda
John David
datum
locatie
Tijd
Informatie
14-16 juli
Cologne, Germany
Open Sky House Hitdorf
Open Day - Celebration Weekend, all for free!
website
22 juli- 6 august
Kiev, Ukraine
Open Sky House Trypillia
Summer Holiday Retreat, incl. Tantra weekend
website
18 august- 3 september
Valencia, Spain
Open Sky House Denia
Summer Holiday Retreat, incl. Tantra weekend
website
23-27 december
Cologne, Germany
Open Sky House Hitdorf
Christmas Retreat
website
6. - 27 januari 2018
India Tiruvannamalai
Nanagaru Ashram
Arunachala India Pilgrimage Retreat
website
Blueprints for Awakening Wisdom of the Masters
Rare Dialogues with 16 Indian Masters on the Teachings of Sri Ramana Maharshi.
'This is arguably the best and finest introduction to the hallowed teaching of Advaita Vedanta that has ever appeared. … a marvellous collection of authentic sage wisdom-teaching, perfectly designed to give the correct pointers to Self-realization for today's seekers after essential Truth.' Alan Jacobs, President Ramana Maharshi Foundation UK
Blueprints for Awakening is an archive of rare and exceptional video-, audio- and print material; a marvellous collection of authentic sage wisdom-teaching. The archive includes a Book, the DVD Film, a Video Website and the DVD Film series "Meeting the Master". British spiritual teacher, John David , uses the teachings of Sri Ramana Maharshi to compose twelve questions which he puts to sixteen contemporary Indian Masters. The questions relate to the major topics which one meets on the spiritual journey: Awakening, Self-enquiry, the nature of the mind and the world, guru and devotion.
Blueprints for Awakening is for everyone who has an inner passion to know who they are and what they are doing here as a human being. It is for all who ask the question 'Who am I?' and for those who are looking for guidance on the teaching of Bhagavan Sri Ramana Maharshi to 'be as you are'.

THE FILM The film presents fresh, modern dialogues about ancient truth. It includes selections from all sixteen interviews and sets out important aspects of the teachings of the Masters in the extra, vital dimension of their energetic presence. John David 's familiarity with them, combined with his many years of experience guiding spiritual seekers, create fascinating, lively interactions. €19,80, ISBN 978-0-9555730-5-7, Film length 92 minutes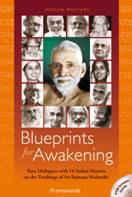 THE BOOK This book includes the complete interviews, 42 colour pages and a DVD Sampler with the trailer fort he Film, a sample of the Video Website, and portraits of each Master. The beauty and fascination of ancient wisdom is reflected in the high quality, carefully designed book. It is a gem on the spiritual journey. €28,80, ISBN 978-0-9555730-4-0, Paperback 366 pages
THE VIDEO-WEBSITE This free database consists of over two hundred short videos of the Masters answers to the twelve questions, providing a taste of their palpable wisdom and grace. www.blueprintsforawakening.org
MEETING THE MASTER This is a series of sixteen separate films showing each Master's complete interview as well as material filmed during subsequent visits. These films create a unique archive for those wishing to taste the Indian spiritual tradition through the grace of these Masters.
Open Sky Press is a publisher of spiritual books which aim to support people in their search for Truth with books about Satsang, Indian and Western masters, and spiritual Awakening – in English and German.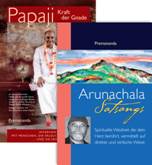 Other titles from Open Sky Press are Papaji Amazing Grace, interviews with seekers of Enlightenment … and how they found it. Arunachala Talks consist of talks of British spiritual teacher John David in which he humorously guides us to see that we are not the experience "my life", but rather the awareness in which the experience happens.
---------------- Additional information ----------------------------------------------
About Sri Ramana Maharshi Bhagavan Sri Ramana Maharshi, the Sage of Arunachala, born in 1878, is one of the most famous and most recent of India's wealth of sages, Saints and spiritual Masters. As a young man of sixteen he had a spontaneous awakening. He left his home in Madurai and made his way to Tiruvannamalai and the holy mountain, Arunachala. He lived for many years, alone and in silence, on and around the mountain, which he never left. In the 1920s the present ashram was constructed. Here he lived and taught until his death in 1950. Many of this Maha Rishi's (Great Seer) students and devotees, who, through him gained Self-realisation, passed on to their own students Sri Ramana Maharshi's practice of Self-enquiry, using the question, 'Who am I?' www.ramana-maharshi.org
About the author John David spent fifteen years with his first Master, Osho, and five years with the great Advaita Master H.W.L. Poonja (Papaji), a direct disciple of Bhagavan Sri Ramana Maharshi. Here his search came to an end and these years brought immense understanding and wisdom. His deep love for India and Sri Ramana Maharshi led him to meet and befriend many Indian Saints and Masters, collecting rare interviews which can now be found in this book and its companion films. John David lives in the Open Sky Satsang Community in Germany between Cologne and Düsseldorf, and offers Satsang meetings throughout Europe. He enjoys art and beauty and is himself a painter. His recent books, Papaji Amazing Grace and Arunachala Talks, are published by Open Sky Press in English and German. www.meetingjohndavid.org
********************************************
Satsang John David
website: www.meetingjohndavid.org
"Word rustig, laat je dagelijkse drama los, kijk diep naar binnen en ontdek de fijnzinnige waarheid, die altijd al daar was."
John David is een engelsman die de laatste 8 jaar satsang gegeven heeft. Hij was 15 jaar sannyasin van Osho. Twee jaar na Osho's dood bevond hij zich in Lucknow bij Poonjaji (Papaji). Nadat hij 3 weken bij Papaji was had hij zijn ontwaken, en hij bleef nog 5 jaar bij Papaji. Hij gaf satsang in Australië en Indië gedurende 5 jaren. De laatste 3 jaren reist John David door Duitsland en geeft elke avond en elk weekend satsang. Hij is een meester geworden in het vertellen en gebruikt voorbeelden en verhalen uit het dagelijkse leven om ons gekonditioneerde verstand te beschrijven, de gevangenis die we voor onszelf gebouwd hebben met onze ideeen, overtuigingen, moraal en verlangens. Hij toont ons op liefdevolle wijze en met humor hoe we deze vesting bouwen en ook hoe we het proces kunnen beginnen om het weer af te breken. Zijn interaktie met elke persoon is fris en spontaan en hij beantwoordt vragen met haarscherpe klaarheid en met begrip. John David heeft een diep begrip van de Advaita Vedanta en een diepe liefde en respekt voor Ramana Maharshi. Hij legt heel duidelijk het Zelf-onderzoek uit, waarom het belangrijk is en hoe het toe te passen. Hij woont aan de oevers van de Rein tussen Keulen en Dusseldorf, Duitsland, in een satsang-community van 20 mensen-Open Sky House.
Satsang betekent: een treffen in Waarheid. Je kommuniceert de waarheid zo als jij die verstaat. Wat is Waarheid? Wat probeer jij de mensen te leren in jouw satsangs?
Ik vraag de mensen gewoon even een moment te stoppen en stil te worden en te kijken, en als ze kijken vraag ik ze om te zien, dat ze gedurende vele jaren "ik" gezegd hebben. Het referentiepunt van hun leven is "ik" geweest, dus zien ze de wereld vanuit het standpunt van "ik". Ik probeer ze te tonen dat als ze dit "ik" werkelijk onderzoeken, ze het niet vinden kunnen. Ze geloven dat er een "ik" is, en een relatie met een wereld die van henzelf gescheiden is. Hun ouders en de maatschappij hebben deze overtuiging versterkt en doorgegeven; de hele maatschappij ondersteunt dit. Ik probeer mensen te laten zien dat dit eigenlijk niet waar is, dat het een verkeerde overtuiging is. Ik help de mensen een beetje stil te worden, zodat ze een ruimte ervaren kunnen, waar dit verhaal niet meer zo veel druk uitoefent. In deze ruimte is het mogelijk om voor jezelf te onderzoeken en te zien dat deze overtuiging(dit verhaal) niet de waarheid is. Als iemand dat eenmaal duidelijk gezien heeft, dan verandert alles voor deze persoon.
Open Sky House
Het nieuwe Open Sky House is in een herengoed uit de 17de eeuw, gelegen direkt aan de Rijn tussen Keulen en Dusseldorf, Duitsland. Het is open voor iedereen die op het punt aangekomen is zichzelf te willen kennen. Niet de verhalen of de drama's, maar eerder hun ware natuur. "Wie ben ik?" is de focus in deze gemeenschap.
Het gewone dagelijkse leven van de community: koken, kinderoppas, schoonmaak, persoonlijke communicatie dienst als achtergrond om de robotische aard van al onze acties en reacties te zien. Als we vrij worden van onze gewoonlijke reacties en patronen word het verstand(de mind) stil. Als we het lawaai in ons eigen hoofd niet meer geloven transformeert het leven zichzelf.
Er is een wekelijks programma met ondermeer mantra-zingen en muziek, films, 2 dagelijkse meditaties en een maandagavond-satsang. John David biedt ook intensieve weekends en langere retreats aan. De maandagavond-satsang is te horen via de telefoon in je woonkamer, overal ter wereld.
Uit de stilte en stil-zijn borrelt kreativiteit op. De community ondersteunt elke vorm van kreatieve expressie. De Open Sky Band levert muziek voor satsang, community-activiteiten en plezier. We ontwikkelen kunst-en dansstudios. Elke maandag nodigen we verschillende musici uit voor een concert en het jaar door worden grotere concerts georganiseerd. Er is een kunstgalerij voor schilderijen, beelden en fotografie.
Het Body Work Center biedt talloze mogelijkheden om het lichaam te relaxeren en de mind rustig te doen worden, je terug in de stilte te brengen.
We zijn een groep mensen geinteresseerd in Waarheid. De naam Open Sky House heet iedereen welkom. We nodigen jou uit ons te bezoeken. We nodigen je uit te zijn zoals je bent. Wegbeschrijving Open Sky House Rheinstr. 54 D.-51371 Hitdorf am Rhein Duitsland